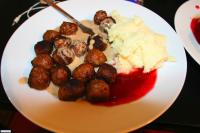 Food prices across the globe have been increasing this year and even the wealthy nation of Sweden has been affected. National Geographic News recently reported how skyrocketing costs for basic commodities had affected the Scandinavian country.
Where increasing costs for wheat and rice have devastated poor countries, there is little sign of it impacting downtown Stockholm.
Per Lindelof manages a restaurant in Stockholm. He said: "We've had to put up the price of some of our dishes, but business is better this year if anything."
His restaurant is famous for hosting a banquet for winners of the Nobel Prize. In 2007, the establishment, which is located inside City Hall, charged 1450 Swedish kronor (USD 244) a head for the meal.
One of the restaurant's most popular meals is the lobster velouté (USD 30) to start and a main course of fillet of turbot (USD 55). "The turbot has really gone up a lot," Lindelöf said.
Between April 2007 and April 2008, Statistics Sweden noted that overall costs increased by 7.3 per cent. Food staples, however, have increased more dramatically. Fruit increased by 12 per cent, bread increased by 10.9 per cent and dairy rose in price by 10.4 per cent over the course of the last year.
In developing nations, these increases in food prices have resulted in violence, strikes and riots, but the markets and restaurants of Stockholm show little sign of being affected.
Anders Palacios is the head chef at a traditional Swedish restaurant in the Kungsholmen district, Master Anders.
"Beef has gone up the most, but Swedish meats are always very expensive. I guess fish has increased too," he said. "We have raised prices on our menu recently, but not too much because I don't want to intimidate people. It hasn't affected the number of customers. It's a busy place."