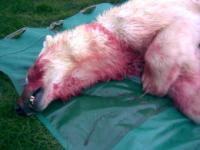 A second polar bear, which was found roaming in Northern Iceland yesterday, has been shot. Stefan Vagn Stefansson, police chief from Saudarkrokur, said the polar bear had bolted towards the sea and they were left with "no choice but to shoot it", reports mbl.is
The polar bear is reported to be an adult female. It is the second sighting of a polar bear in Iceland in a month and follows the shooting of an adult male in the same area on June 3rd.
More reports to follow.