Today is the last chance to catch a glimpse of DesignMarch, an annual design festival in Iceland organized for the ninth time this year. This has been the largest and most significant design mars so far, with one hundred events transforming Reykjavik into a venue for design. "The festival showcases local design alongside international designers displaying everything from fashion to furniture, architecture to food design." according their website.
There are many noteworthy exhibitions on display and its worth going around Reykjavík to take a closer look today, the last day of the festival.
"Insight" is a group display and look into the creative world of three very different designers according to a presrelese; the furniture design of Erla Sólveig Óskarsdóttir, jewellery by Halla Bogadóttir and lighting design by Alfred Homann. The inspiration behind the exhibition was the Royal Cast Museum in Copenhagen where the light and shadows on the museum's white walls create an intricate experience.
"And Anti Matter" revealed the first product line developed by the duo Baldur and Thorey Bjork. "Sculptures for domestic use, where hard angular industrial features meet light and color".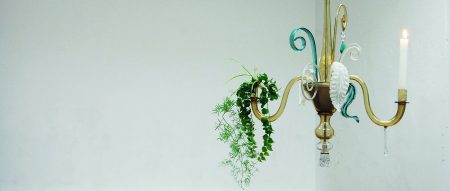 There are still many things to see and what better way to spend a Sunday in Reykjavik than to look at some creative design. One more noteworthy project goes by the title "Glass Memory" (featured image: Second Life Chandelier) by designer Yomuto. A collection of lamps, chandeliers and objects made with second hand glassware. There are many more as the website displays.