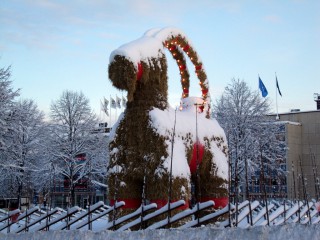 Sweden's renowned Christmas goat, a regular target for arsonists, has made it through the festive season for the first time in a number of years.
The goat, which is the main attraction at Christmas in the eastern city of Gavle, stands 13-metres high and dominates the town centre. This year, the straw animal drew the attention of media around the globe due to the regularity at which arsonists target the structure. There was only one question on everyone's mind: Would the goat make it through Christmas?
And the answer was yes. After being erected on 30 November, it surpassed its 2012 counterpart, which was burnt down on 12 December. Then hopes really started to grow when it made it beyond 21 December, the date the 2013 version met its unfortunate fate. Finally, as Christmas Day came and went, the Gavle goat has at last enjoyed a merry Christmas.
The story is a huge one of success for Gavle's goat committee, who came up with a number of new measures to tackle the arsonists this year. The first was a cunning ploy to move the city's taxi rank so it surrounded the structure, meaning there was rarely a moment where would be arsonists could carry out an attack without being spotted. The second was introducing a 24-hour surveillance camera.
Gavle municipality head of communications Johan Adolfsson noted that moving the takes made a massive difference as there were a lot more people moving around the goat. He noted, however, that there were still some arson attempts, with people being caught climbing the fence with lighters in their pockets, while two Australians were also arrested after being spotted dousing the goat in liquid.