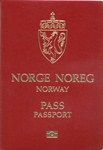 Despite around 13,000 people from other countries being granted Norwegian citizenship last year, record high numbers are getting denied.
Head of the UDI residence permit department Karl Erik Sjøholt explained that the record number of rejections is not necessarily down to a greater number of forged documents, but rather to the Norwegian authorities becoming better at detecting such acts.
The department's regulations state that those who use forged documents risk being banned from the country and could potentially serve jail time.
Children and equality minister Solveig Horne said that the rules surrounding citizenship need to be strict. She explained that anyone wanting to become a Norwegian citizen must now attend special seminars and insisted it is a positive move to tighten the regulations.
She said that as a citizen of Norway she promises her fidelity to her country and its community, and supports its democracy and human rights, adding that she will respect its laws. She noted, therefore, that anyone providing false information should not be granted citizenship.
The fidelity promise Horne recited is one that every new Norwegian citizen must give at a ceremony to celebrate their citizenship. However, in 2013, 15 people had their citizenship rescinded after authorities detected false statements and forged documents.