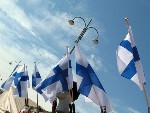 A French fan of Finnish metal band Sonata Arctica walked an incredible 3,500kms to have a beer with his favourite band. Jordan Langlois turned up on the doorstep of keyboard player Henri Klingenberg 140 days after leaving his home in France.
When he set of on his bizarre mission, the only Finnish towns he knew were Helsinki and Sonata Arctica's hometown, Kemi.
Langlois has covered roughly 20kms a day since June, and he admits that many people think he is crazy. He says, however, that he wanted to do something that has not been done before. He also stated that he hated PE when he was at school and faked asthma just to avoid it, adding that he hates walking too.
He camped in his tent at night times and, occasionally, friendly strangers would let him use their showers. When asked why he set out on such a journey, he says he just wanted to have a beer with his favourite band.
Klingenberg admits that the band usually turns fans that show up on the doorstep of their retreat away to protect their creative space. However, when they learnt that Langlois had walked so much to just to meet them, they gave him a warmer welcome.
The French fan spent a few days in the town of Alaveteli, Kruunupyy, where the band has been recording their new album for several weeks, and even enjoyed saunas with his idols. He has now headed to Kemi to see their hometown.