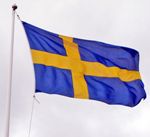 A Swedish man has been hospitalised after being shot in a Gothenburg suburb in the latest incident of gun crime in the western city.
Police arrived on the scene in Hammarkullen, eastern Gothenburg, at around 9.30 on Friday evening after residents called in to report disturbances.
Vastra Gotalund police's Jenny Widen said they cordoned off the scene and began a preliminary investigation of manslaughter or attempted murder. On Saturday, police were searching the area for a suspected offender and a forensic team was carrying out an examination at the scene.
The victim's condition remains unclear, and police said they could not determine whether the incident could be linked to a double homicide that occurred last Wednesday.
Two men died last Wednesday after being shot in Gothenburg's Biskopsgarden neighbourhood. Witnesses claimed around 20 shots were fired. The two victims, aged 28 and 17, died later in hospital from their injuries. Vastra Gotalund police are classing the shooting as murder or manslaughter.
Police also received calls reporting gunfire being heard in the Bagaregarden and Biskopsgarden neighbourhoods on Friday night but arrived at the scenes to find no evidence indicating that such incidents had taken place.