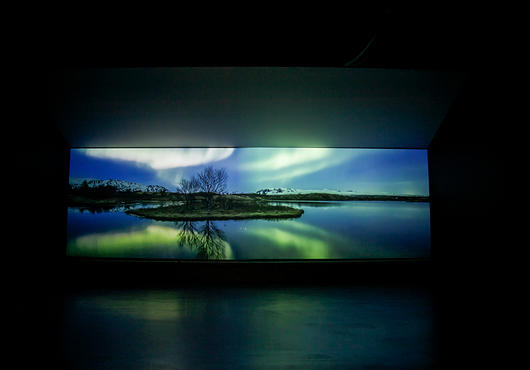 Aurora Reykjavík, a new interactive centre that recreates the surreal nature of the Northern Lights, has recently opened in Reykjavík, Iceland. The facility is a new educational, recreational and interactive attraction, which uses the latest advances in multimedia technology to bring the Northern Lights to life.
Designed by Snorri Valdimarsson, the interior of the centre has been noted for its otherworldly concept, which represents the alien-nature of the Northern Lights.
Aurora Reykjavík is split into various sections including information & photography; interactive & educational; and the history of the lights. The focal point of the facility is the experience room, which uses a large HD projection to immerse visitors in the green glow of the Aurora Borealis.
The Northern Lights are usually only visible during the winter season, but Aurora Reykjavík allows summertime travellers to get the best of both worlds and enjoy the ever-glowing midnight sun before gazing at the magical Aurora.
Last year's solar peak saw NASA predicting a winter of stunning light shows in Iceland, and it is predicted to continue for winter 2013 due to an unusual double peak in increased sunspot activity. UK Travellers can book flights to Iceland direct from London Gatwick, via WOW air, to experience the lights for themselves.