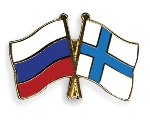 The number of Finnish tourists who have chosen the historic Russian city of St Petersburg as a holiday destination is expected to reach a record high this year. Last year, about 270,000 passengers boarded boats between St Petersburg and the Finnish capital of Helsinki.
Backlogs in visa applications are being reported at visa centres and consulates throughout Russia, while Finnish tourists are booking their holidays to St Petersburg further in advance. In addition to the main Russian embassy and smaller visa centre situated in Helsinki, consulates are also located in the smaller Finnish communities of  Lappeenranta, Turku, and Mariehamn.
It has never been easier to travel the 400kms from Helsinki and St Petersburg, whose population of five million is almost as large as the entire country of Finland. The new daily bus route which opened last November between St Petersburg and Imatra stops at Joutseno, Lappeenranta, and Vyborg during its 200kms journey. Russian state railway RZD has also expressed interest in establishing a new rail link between St Petersburg and Imatra.
The centre of St Petersburg is a UNESCO World Heritage Site, and regarded as Russia's most attractive tourist destination. June is the most popular time to visit on account of its famous 'White Nights'.