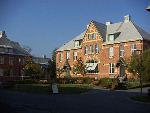 Divers have recovered 300-year-old skull in the Baltic Sea off the coast of Sweden.
Researchers had been exploring the area near the island of Öland amid the ongoing excavation of a sunken royal ship known as the Kronan. The vessel sank during the Battle of Southern Öland in 1676, when Swedish forces went head-to-head at sea with a Danish-Dutch fleet. Around 800 people are believed to have perished on the ship, with only 40 survivors reported.
This week, Lars Einarsson from the Kalmar County museum said, "We have found the remains of two crew members. The remains were laying in very favourable conditions and in one of the cranium there is some remains of brain tissue," The Local reports.
Researchers have retrieved around 20,000 items from the site after it was discovered in 1980. Some remains of human skulls have been raised, although experts say the new find comes as a surprise.
Mr Einarsson said, "It was not expected in this area. The ship was going into battle and so the crew would have been at battle stations". Instead, the finds were discovered in the 'rope deck', near the bottom of the vessel and were preserved in an air free pocket," he said.
The remains have since been taken to Stockholm University, where Einarsson said researchers hope unravel the mystery of the find.