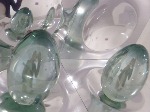 A new art exhibition dedicated to the works of Níels Hafstein, Delicate Luggage II, has recently opened at The Living Art Museum in Reykjavík, Iceland. The exhibition holds recent works juxtaposed with earlier ones and with it comes a donation from the artist. The collection of the museum holds 22 works by Hafstein in various mediums but on this occasion he donates 8 works as an addition.
The display is meant give insight into Hafsteins' artistic practice on a wide range but in it there is a fine filament in arrangements to be found. There is hardly a way to separate his practice from his huge contribution to the Icelandic art scene. He has founded and followed through on two museums and collections; The Living Art Museum in 1978, founded with the mission conserve and provide a platform of research on contemporary art, and the Icelandic Folk and Outsider Art Museum on Svalbarðaströnd in 1995, evolving around marginal art and queer objects.
The works in the exhibition span two decades in Hafsteins' practice, the oldest one being from the museum's collection; New Perspective from 1986 and the most recent ones from this year. Three works are borrowed from other museums and a private collector and the rest is courtesy of the artist. Hafstein has selected a guest work from the collection of the Living Art Museum by artist and architect Ragnheiður Ragnarsdóttir; Blue Continues from 1993, the same year she donated it to the collection following an exhibition of young artists in the museum.
In Hafsteins' earlier works the exhaustions of possibilities of his subject and a seemingly compulsively meticulous approach is a reoccurring theme. He seems accustom to creating a rather exact structure for himself, but at the same time he draws forward a grand freedom and playfulness within the given structure, not unlike a strict metre in poetry to compose within. In his more recent works one can mark the joy that comes with the discovery of new approaches in choosing resources and negation of found objects and smart materials.
Delicate Luggage II will be running until 9th September 2012.