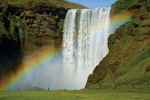 As spring is drawing near, temperatures in Iceland are starting to rise and daylight is increasing. This blend of winter and summer means that spring holiday ideas for 2011 in Iceland are varied and more exciting than ever.
Located in the North Atlantic, Iceland boasts stunning scenery filled with spectacular lakes, rivers, waterfalls, mountains, hot springs and also the Northern Lights, which are set to be magnificent throughout March and April.
Icelandair, Iceland's leading airline, is launching its 'Spring Special' package deal for UK travellers to experience the beauty of Iceland. Included are flights from Manchester, London Heathrow, or Glasgow, and three nights in selected accommodation; travelling between March and May.
There is so much to explore in Iceland, from the bubbling hot springs of Geysir, the historic beauty of Thingvellir, to the breathtaking sight of the Gullfoss waterfall. If that isn't enough, enjoy relaxing in the geothermal spas at the famous Blue Lagoon and experience the positive effects of the Blue Lagoon's geothermal seawater.
In addition, the beginning of April sees the start of the whale-watching season, giving travellers the chance to see minke whales and dolphins across the coast of Reykjavik. Furthermore, be sure to head out to a restaurant in Reykjavik and try the "catch of the day" at one of the many excellent seafood establishments around the city.
To find out more about Icelandair's 'Spring Special' and for other spring holiday ideas, visit www.icelandair.co.uk.