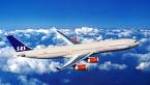 Hundreds of SAS and Norwegian ASA pilots have admitted to dozing off in the cockpit, according to a new survey. Norway's NRK national broadcaster, which commissioned the poll, says aircrews blame long hours and poor working conditions on their inability to stay alert during flights.
In all, 206 pilots said they had fallen asleep while in charge of an aircraft, the majority of which claimed they were working 13 hour shifts or had been scheduled for four weekends in a row at the time. Working conditions were also considered to be a security risk or unsafe by 70 percent of respondents who said that commercial pressures sometimes pushed and exceeded personal limits.
An incident was reported by VG last week where an SAS captain fell asleep on a flight between Copenhagen and Stockholm while his co-pilot was in the toilet. According to the newspaper, the information came directly from a security report document.
"I became extremely tired at cruising altitude and had to fight to keep my eyes open," the captain – who was on his fourth short-haul trip of the day – said in the report. He added that he only woke up again when his colleague rang the buzzer to get back into the cockpit.
"Fatigue is a problem on the short and medium-haul routes. Current EASA (European Air Safety Authority) rules state a 13-hour maximum," Aleksander Wasland, deputy leader of the Norwegian Airline Pilots Association, said in a report by The Foreigner. "However, these could be revised if EU rules are harmonised, meaning perhaps even longer shifts," Wasland added.
Officials from both Norwegian and SAS commented that safety is their top priority, adding that tired pilots can announced themselves "unfit for flight" without risking disciplinary procedures. The NRK survey, however, suggests that only 41 percent have ever done so.