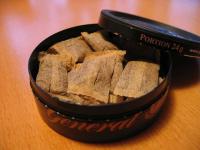 Swedish Match, the company that produces the popular 'snus' smokeless tobacco product, as well as matches, lighters and snuff, has teamed up with tobacco magnate Philip Morris International (PMI) to market its smokeless tobacco products across the globe.
Although both companies will own an equal stake in the new venture, the headquarters will be based in Stockholm. "The smoke-free category has demonstrated substantial growth in Sweden and Norway over a number of years," Swedish Match boss Lars Dahlgren told The Local newspaper. "We believe that smoke-free tobacco products, and especially Swedish Snus, have potential outside of their current markets."
Snus tobacco is a snuff product usually packaged inside a small tea-bag pouch that is placed inside the user's mouth between the upper lip and the gum. It is a very popular alternative to cigarette smoking in Scandinavia, and Swedish Match and PMI believe it will be well received on the international market as more countries ban public smoking and health issues are better promoted.
"Snus has been recognized by many in the scientific and public health community to be significantly less harmful than cigarette smoking," PMI commented. PMI, the manufacturer of Marlboro cigarettes, is one of the largest tobacco firms in the world, with sales in 160 countries.