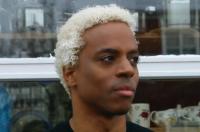 Seth Sharp presents an intoxicating night of brand new tunes and some classic cover songs with an exciting line-up of young musicians and dancers on 27th February at Reykjavik's Café Rót.
Elvar Elvuson starts the night with a serving of indie-rock that is at times facetious and always mellifluous.
German electronic musician, Phil (also known as 107RVK), sets a soothing tone so you can sit back in your seat and chill.
Seth Sharp introduces some brand new tunes, starting from a slow groove into a dance fiesta, with some beloved classics in between.
Playing with Seth:
Daníel Geir Sigurðsson, bass/trumpet
Jón H. Geirfinnsson, drums/keyboard
Nikulás Ari Hannigan, keyboard/bass
Please note that there is no age limit in Café Rót and seating is limited so get there early if you want good seats. This concert just happens to be for free.
BECOME A FRIEND ON MYSPACE:
http://www.myspace.com/sethrs
BECOME A FAN ON FACEBOOK:
http://www.facebook.com/home.php?#/pages/Seth-Sharp/30421427440?ref=ts
(press release)