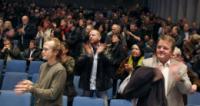 "The foreign debt of the Icelandic economy and the nation is beyond our power and the prospect is black," said Haraldur L. Haraldsson, an economist, at a political debate hosted by the Organisation for Civic Action yesterday evening, mbl.is reported.
Haskolabio, where the debate took place, was well-attended and the leaders of the opposition and all government ministers were present, with the exceptions of Ossur Skarphedinsson, the Minister of Foreign Affairs, Johanna Sigurdardottir, the Icelandic PM, and Asta Johannesdottir, the Minister of Social Affairs and Social Security, who were attending a meeting of the Social Democrats' representative committee.
Haraldsson was also sceptical about the liability of the Icelandic public and said the authorities need to ask themselves whether their interference has given rise to financial burdens that would not have existed otherwise.
"The foreign debt of the old banks is beyond the power of Iceland's economy, it's staggering in proportion with the GPD," Haraldsson said. It's hardly feasible to obtain a surplus in the national budget just to pay off the interest, let alone the instalments of the old banks' loans. "If this is done, it would lead to great cuts in the public welfare system and even stagnation of the national economy. This money, if it were available, would greatly help the future progress of the Icelandic economy, on the other hand."
Another dilemma is that the payment of instalments and interests is not carried out in Icelandic krona.
"Therefore I recommend that the government reconsiders its approach to the matter, and those found responsible be held accountable for their actions," he continued, receiving a thundering applause. At the same time the government should ask for formal discussions with the countries that the banks were operating in and where their debts are.
Furthermore, all the numbers involved have to be on the table. "And I declare that if we enter those discussions well prepared and with a positive attitude, our results will be equally positive. In such discussions it would be put forward that the debts are outside the capacity of our economy. Lastly, it is imperative that this is done through discussions and agreements rather than declarations that will not be paid without any rationale," said Haraldsson.