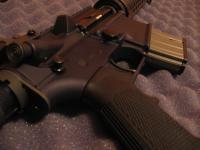 Police last week arrested several suspects in connection with the bold robbery of a Zealand military outpost in January. The well-organised raid was the first time a Danish military base was breached, as well as one of the largest heists of arms and ammunition in the country's history.
In the heist, some 200 automatic rifles and semi-automatic pistols were stolen along with plenty of ammunition from the Danish army base in the town of Slagelse in southern Zealand. The JP news agency reports that last weekend a man living in the Zealand town of Smorumnedre was taken into custody and remanded for four weeks.
A second suspect was apprehended in the Copenhagen area and is appearing in court behind closed doors hearing at a courthouse in Naestved. The B.T. newspaper says that an unspecified number of suspects have so far been taken into custody over the case that shocked Denmark's military establishment.
The most recent arrests netted Danish police some of the stolen weapons, but at least 100 of them are still missing. B.T. newspaper reports many of the valuable weapons, which can fetch up to DKK 50,000 (USD 8,500) each on the black market, have already been sold to biker gangs. Many of the weapons stolen were intended for deployment in Afghanistan.