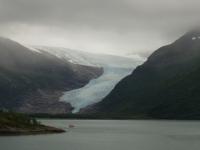 On Saturday, local authorities in the Norwegian town of Forsand were informed that a massive avalanche had occurred at Pulpit Rock, a popular rock formation in Lysefjord. The mayor of Forsand, Ole Tome Guse, has asked locals to stay away from the area until the stability of the rock can be assessed.
Rodne Fjord Cruise, which runs boat cruises in this beautiful region of Norway, reported the avalanche. Speaking to the newspaper Aftenbladet, Ole Tom Guse said "Rodne reported that they had experienced a 100-metre wide avalanche on the north side of Lysefjorden. They had observed trees floating in the sea, and trees hanging from the side of the mountain, together with stone blocks."
The huge landslide actually occurred around 150 metres east of Pulpit Rock, a dramatic sheer cliff with amazing views and a straight drop into the fjord. The mayor of Forsand wants people to stay out of the waters around Pulpit Rock because another avalanche could happen without notice.
"The technical department will go to the area by boat on Sunday morning, to examine what has happened closer," Guse said on Saturday. He will go with the crew to see the damage first hand. However, in case anyone is worried Pulpit Rock has disappeared forever, the mayor reassured them by stating, "If it had fallen into the sea, more people would have noticed it."