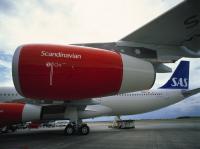 Scandinavian Airlines (SAS) has announced that it sent an Airbus A340-400 on Saturday from Stockholm's Arlanda Airport to Thailand to help repatriate stranded Scandinavian tourists caught up in the political turmoil engulfing the Thai capital Bangkok.
The SAS flight returned to Sweden in the early hours of Monday with a full load of 245 passengers. The plane had to fly into U-Tapao, a military base three hours drive from Bangkok, according the The Local newspaper. "We are pleased to be able to start operating flights to and from Thailand in order to get our customers home," said Lars Sandahl Sorensen, CEO of Scandinavian Airlines International. Sorensen himself was actually on the first flight from Thailand, as he happened to be stuck there along with many hundreds of other European tourists.
SAS has to resort to tiny U-Tapao airport because Bangkok's main commercial airport Suvarnabhumi remains under siege by anti-government protestors. Although SAS was sceptical at first about using U-Tapao, they have realised it's the only logistically feasible airstrip around the capital.
"We regret the inconvenience this has caused our passengers, and we have done everything possible to take the best care of those affected here in Bangkok. We wanted to ensure that it could meet the standards we require. They have now managed to get everything in place," said SAS spokesperson Anders Lindstrom to the news agency TT.
It has however since come to light that U-Tapao cannot handle all the traffic, so SAS have said further flights will leave from Phuket in southern Thailand.
Since the time of writing, the airport siege has been officially called off. Presumably this means SAS flights will be able to resume from Bangkok in the near future.)