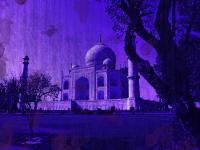 In the first known gay marriage at India's legendary tribute to love, the Taj Mahal, two young Swedish women tied the knot following traditional Hindu rituals conducted by a priest at the Mahadeva Shiva temple in Agra. The two women, aged 18 and 19, were initially refused by the priest, Dharm Das. But after promising to be lifelong disciples of the priest and giving offerings to the temple, he changed his mind.
Speaking to the Mail Today, Das said, "Although the Hindu system of marriage doesn't allow such relationships or marriages, I am impressed with the love that the two women have for the monument of love." Das was also moved to compassion by the fact that Sweden does allow same-sex unions.
Although the government is presently considering new laws that would allow same-sex marriages to be treated on a par with heterosexual marriages, current law allows same-sex couples only the right to register their partnerships with the local government. The rights and responsibilities of such registered partnerships are not equal to marriage.
The Local newspaper reported that the couple have been living in New Delhi working for a children's charity. Their wedding attracted a surprising amount of local attention, since homosexuality is still illegal in India. But the two women have been in love for many years and felt that the Taj Mahal was the ideal setting to officially bind their love.