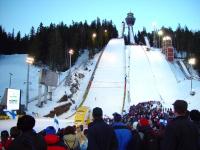 Along with Innsbruck, Austria, the Finnish town of Kuopio is in the final race to host the first ever Winter Youth Olympics in 2012. The International Olympic Committee (IOC) made the announcement last week after eliminating the other two potential finalists: Lillehammer, Norway and Harbin, China.
The choice of which city will host the 10-day event falls to the discretion of the IOC executive board and its evaluation committee led by Pernilla Wiberg, herself a former Swedish Olympic gold medal skier. An article in Sports Illustrated alludes that Innsbruck seems to have the advantage over Kuopio, mainly because the Austrian town poses the least financial risk with its sizable budget of USD 22.5 million.
Innsbruck hosted the Winter Olympics in 1964 and 1976, but the IOC panel is concerned that the city will not be able to construct the athlete's village on schedule. Innsbruck's backup plan involves renting rooms in local hotels, which would leave less room for spectators.
Kuopio has two things going against it. Its organising budget of USD 13.9 is considered extremely low. The games have also received little support from the government on both local and national levels, and Kuopio has never hosted an Olympic event.
The winning city will be announced on 12 December after a secret ballot. The new winter games will involve 1,000 youth athletes aged 14 to 18 competing in seven sports: skiing, ice hockey, figure skating, bobsled, luge, biathlon and curling.