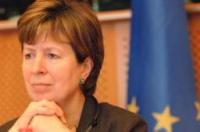 According to Icelandic morning paper Morgunbladid, Diana Wallis, who is the Vice Presidenet of the European Parliament and a UK Liberal Democrat, has said that she regrets the way terrorist laws were used against Iceland, making a bad situation worse.
As recently reported on IceNews, it was stated that some EU countries are asking the IMF to hold back any loans to Iceland until the UK/Holland and Icesave crisis has been fixed. "For Iceland this is little more than an attempt to blackmail the country," one Icelandic MP said.
"I have heard this rumour," says Wallis. "I am not sure if it is true. If so then I would be very disappointed. I believe that the actions taken by my nation against Iceland did not help and made a bad situation even worse," she also added that now was the time for European nations to show solidarity.
Neither Alan Seatter nor Natashia Butler, both high level EU diplomats, were willing to confirm the rumour reported by Icelandic members of parliament who met with their EU colleagues this week.
In an Interview with Morgunbladid Wallis urges the Icelandic government to go the judicial route.
"It is my understanding that the Icelandic government has already offered the UK government to take the case directly to the EU, but the United Kingdom has declined that. If I were the Icelandic government, I would not be afraid to take this case to the UK courts as they are known not to be afraid to find against the government," says Wallis.
The Icelandic government continues to state publicly that it will pay the required first EUR 20,000 of money lost in Icesave. The speculation surrounding the IMF loan is that the UK and the Netherlands may be trying to force the country to pay 100 percent of lost savings – a much higher amount that was never guaranteed under EU, UK or Icelandic law.