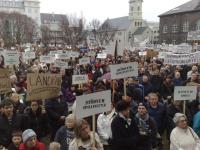 Today local authorities report that around 4000 people gathered at Austurvollur in front of the Icelandic Parliament to protest against the situation and the lack of information provided by the government to the public.
According to eyewitnesses, eggs and oranges were thrown at the Parliament walls and shouts made at the police when they tried to control the situation.
This protest is a part of a series of weekly gatherings that have been growing in numbers over the past weeks.
According to a woman attending the protest the growing numbers are understandable and even the throwing of eggs towards the parliament building is understandable. "People are angry and disappointed. I am afraid that this will escalate if nothing happens," she explained.