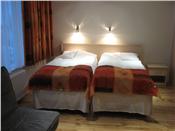 The Icelandic apartment hotel, Hotel Hafnarfjordur is pushing its family friendly and value for money credentials to coincide with an increase in visitors to Iceland due to the weakness of the Icelandic krona making Icelandic tourism cheaper.
Family fly-drive holidays in Iceland are a growing phenomenon and an unforgettable experience; but not always one best suited to staying in a traditional hotel. But most holiday apartment complexes lack the best elements of hotel service. That's where an apartment hotel like Hotel Hafnarfjordur comes in.
Hotel Hafnarfjordur was designed to combine the freedom that comes with stylish, self-contained apartments with the comfort of internet access, a helpful reception open 24/7, tourist information and a bar, among other things.
Hafnarfjordur is an entirely separate town in the Reykjavik capital region with its own shops, tourist attractions and bars and restaurants. But Hafnarfjordur is still just a few minutes' drive from the shops and restaurants of Reykjavik.
Set in a stunning lava field and nestling around a pretty old harbour conveniently on the way to Keflavik International Airport, Hafnarfjordur is famous for its elves, its horse riding, its Christmas Village and also its Viking Village tourist centre.
The intimate harbour is always busy with boats and the town centre boasts a pleasant stream full of ducks and small fish. Old Hafnarfjordur fans out from the town harbour in a maze of well-maintained bright painted timber houses, an eclectic mix of shops and boutiques, as well as many excellent options for eating and drinking.
Hotel Hafnarfjordur believes it has an advantage over Reykjavik hotels: that visitors staying there find it extremely easy to visit Reykjavik as often as they like; but visitors staying in Reykjavik very often miss unique and beautiful Hafnarfjordur altogether. Ignorance may be bliss, but visitors to Hafnarfjordur know better!
Hotel Hafnarfjordur's website gives information on the Icelandic apartment hotel, including prices, special offers, a description of facilities and an extensive collection of photographs to help prospective guests find a feel for the place. More details are available at www.hhapartmentshotel.is
(Advertisement)