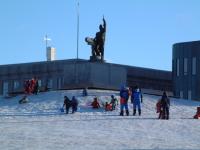 The British authorities have decided to put GBP 800 million into the accounts of British depositors in IceSave, MBL reported.
Alistair Darling, the British Minister of Finance, confirmed this decision in a statement earlier today.
About 300 thousand Britons had IceSave accounts in Landsbanki and have deposited around GBP 4 billion there.
The Financial Supervisory Authority took over Landsbanki exactly one month ago and closed all IceSave accounts.
This resulted in British authorities applying anti terrorist laws against Iceland and on 8th October they froze Landsbanki assets in United Kingdom. Since then, the Icelandic and British authorities have hotly debated responsibility for the guarantee for British depositors in IceSave. Official relations have remained friendly; but a final agreement has still not been reached.