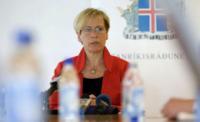 After a long and expensive campaign, Iceland has finally learned that it will not be a member of the United Nations Security Council in 2009-10. Austria and Turkey will take Europe's two rotating seats this time. "This of course is disappointing, you never go into a battle like this without the aim of winning," said the Icelandic Foreign Minister Ingibjörg Sólrún Gísladottir in an interview with MBL.is last night.
"This was a difficult battle to fight, all of the candidates had a strong case and all have a very developed foreign services and strong advocates. The election also comes at a point where our country is dealing with economical troubles," said Gisladottir and added that "…even though we kept our head high, I believe it did play a role.
Both Turkey and Austria are not dealing with anything like this and finally I believe that the actions of the United Kingdom put Iceland in a very negative light".
"The whole process has taught Iceland much about international politics, we now have many new friendly nations and I also know that through our work we have left behind a strong deposit that Iceland can use at a later stage," the Foreign Minister added finally.