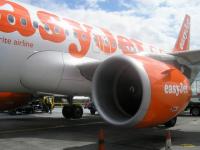 Not wanting to be left out in the cold by the popularity of budget airline travel, Copenhagen Airport (CPH) will be constructing its own dedicated budget carrier terminal. They are calling it the CPH SWIFT project, and it is expected to open for air traffic by 2010.
The 200 million kroner CPH SWIFT project will essentially be an extension of Copenhagen Airport's existing terminal building. It will cater to budget airlines and have an annual capacity of around 6 million passengers. The main goal of building this special terminal wing is to lure more budget airlines to Copenhagen. To do that, the airport is cutting passenger charges paid by each airline to half the usual amount.
In exchange for the reduced passenger fees, airlines must agree to maintain a turnaround time of 30 minutes. If they fail to uphold their end of the deal, they will have to pay the full passenger charge. Other cost-saving measures to make this a truly budget terminal include extensive use of self check-in procedures.
The CPH SWIFT wing will be fully integrated with the airport's existing terminal by using the same baggage claims hall and security gates. This will also reduce construction costs. CPH SWIFT will have six new parking stands for the planes, as well as an additional five stands ready to handle any extra capacity.