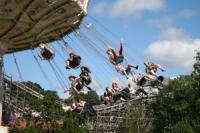 The famous Cobra roller coaster inside Aarhus's Tivoli Friheden theme park has been closed indefinitely following an accident that injured four.
The two men and two women were in their early twenties, and were "…injured, but not seriously," said park spokesman Henrik Olesen. "There are some investigations and experts working at the moment on the attraction." The four were taken to hospital following the incident. They suffered bruises and fractures but were not seriously hurt.
The accident happened when the carriages on the 'inverted' coaster became disconnected and detached from the rail, forcing one of the carriages off the track, whereupon it fell to the ground.
The Cobra is in its first year and already one of the park's most popular attractions. It comprises a 400 metre-long rail that reaches heights of more than 25 metres and speeds in excess of 70 km/h.
Aarhus is Denmark's second city, and the Cobra rollercoaster is the first such project attempted by the Ride Tek amusement company.