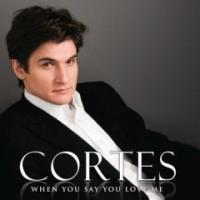 Icelandic tenor Gardar Thor Cortes will release his new album "When You Say You Love Me" next Monday in both Iceland and the UK.
The album follows up on his self-titled debut album which became a No 1 selling album in the UK and the fastest ever selling record in Iceland. It was also nominated as Album of the Year at the 2008 Classical BRIT Awards.
Gardar Thor Cortes says the album has been in the making since late 2007 and is a labour of love. "It was such a true joy putting this together. It's a nice mixture of pop classics and superb classical pieces," says the tenor.
The album will feature opera favourites such as 'M'appari Tutt Amor' from Martha, 'Pourquoi Me Reveiller' from Werther, 'Com'e gentil' from Don Pasquale, the classic 'She' from Notting Hill and a duet with Natasha Marsh called 'The Prayer'.
The album will also feature a collection of new material specially rearranged for Cortes including the songs 'Mama' and 'Autumn Leaves'. Not forgetting his Icelandic roots, the album will also include the classic Icelandic lullaby 'Sofdu unga astin min'. The leading track 'When You Say You Love Me' will be the first single to be released from the album.
Last month, The Sunday Telegraph Magazine described Cortes as "Heir to Pavarotti's crown". The Icelandic tenor has also been described as 'The James Bond of Opera' (GMTV) and 'The Voice of Pavarotti with the looks of Brad Pitt' (Newsweek).
The album is out on Monday June 30th and can be preordered online from Play.com and at Amazon.co.uk.
Cortes will be performing throughout the UK, USA and Asia this year. For more details of the new album and future Cortes events visit: www.officialcortes.com