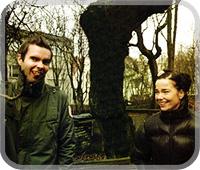 The Icelandic news publication Morgunbladid will be showing tomorrow's free outdoor concert with Sigur Ros and Bjork live on its website at mbl.is.
The Nattura (nature) concert kicks off at 5pm GMT in Laugadalur, Reykjavik and finishes at 10pm. On the programme are Icelandic music artists Olof Arnalds and Ghostigital, as well as the legendary Bjork and Sigur Ros – two of Iceland's most famous musical exports.
The idea behind the concert is to raise awareness of the impact of growing aluminum smelting activity on the Icelandic landscape. On her website Bjork says that, "Our politicians must not get away with working against nature. We have to keep them on their toes. The damage could be too great, much greater than the short term profit."
Up to 40,000 people are expected to attend the free concert. Admission will also be free to the nearby zoo and Laugardalslaug swimming pool where concert goers will be able to use the bathroom facilities.
To see the webcast of the Sigur Ros and Bjork concert, visit www.mbl.is from 7pm GMT on Saturday 28th June.