The so named Marshall House on the Reykavik harbour has been under renovation for the last two years, being prepped to receive the two most interesting and established artist run initiatives in Reykjavik under one roof along with a show room for Danish-Icelandic artist Olafur Eliasson and his studio on the top floor.
The much-anticipated 1,800 square meter art-house officially opened to the public on March 18th and received well over 4,000 guests. A new permanent home to Kling & Bang and the Living Art Museum, two longstanding artist run initiatives that have been drifting on the impossibly difficult housing marked in Reykjavik for years. The house signifies a radical new landmark in Iceland's small art scene and allows the artist initiatives to further blossom without worrying about a roof over their heads for the coming 15 year (to begin with).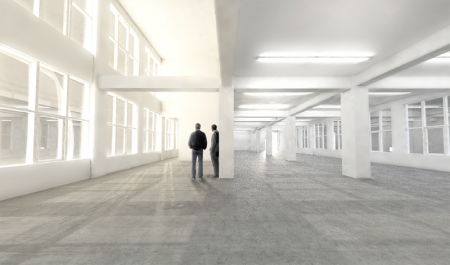 The house is a former herring factory and a warehouse, an impressive tall white building ruled with huge glass windows sitting on the Grandi, the industrialized side of Reykjavík's harbour. The house was built in 1948 with assistance from the Marshall Plan, a post-World War II aid plan for local industry from the U.S. army.
The renovated Marshall House is a decisive addition to the Grandi area, an increasing mix of the Reykjavik harbour industry and culture, emerging with restaurant, arts and crafts shops, museums, concert houses, rehearsal spaces for experimental bands and artists studios. And now, a new project space for contemporary visual arts.
Kurt og Pí architects prepared and planed the space coordinating with art gallery i8, which represents Eliasson in Iceland, the architects developed a team of interested occupants, the Living Art Museum and Kling & Bang and got the city of Reykjavik and HB Grandi fishing industry giant, and house owner, aboard.
With the rapidly changing real estate and renting landscape in the city of Reykjavik in the wake of the 2008 financial crash and subsequent tourist boom, artist-initiated experimental spaces such as Kling & Bang and the Living Art Museum have struggled to survive and keep their spaces. The Marshal house is a safe haven for continued experiments in the visual art scene in Reykjavik, atleast for the next 15 years, with only the creativity of the scene as a limit to what can be done there.