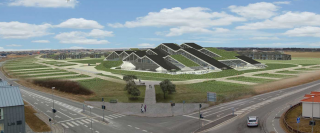 The largest waterpark in northern Europe will be developed in Denmark's Jutland region if the proposal gets the green light.
The park, named Sondervig Feriepark, would cost around a billion kroner to develop, be situated in Ringkobing-Skjern and employ an estimated 1,000 workers by 2020. When finished would feature a massive outdoor waterpark and 500 summerhouses.
However, before the development can start, nature authorities Naturstyrelsen must give it the green light as one of just 10 projects that will be permitted to take place in western Jutland's protected coastal zone area.
The government and parliament gave the experimental initiative the go ahead last year in an attempt to support rural communities that rely heavily on tourism. In the municipality of Ringkobing-Skjern, there are currently around 3,000 people working within the tourism sector.
Ringkobing-Skjern mayor Iver Enevoldsen said he felt the application would be approved as the documentation was good. He pointed out that it was the only municipality in the region to apply for this project.
Naturstyrelsen, meanwhile, revealed that it had been sent applications from nine municipalities for 10 different projects, and that it would make its final decision by the spring.