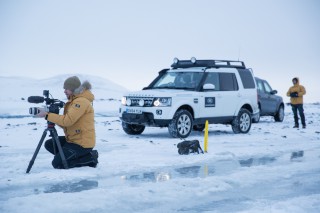 The international launch of the Land Rover Discovery Sport has recently taken place in Iceland. The event marked the first time that international media had been given the opportunity to see the vehicle up close.
As part of the launch, invited guests were picked up from Keflavik International Airport and taken on a two-day journey in the new vehicle. Guests were arriving between 8th December and 20th December 2014, and once again for 2015 between 11th January and 29th January.
Invited guests for the launch comprised of journalists specialising in international motoring and lifestyle, as well as leading figures within the media.
It was noted that Iceland was chosen for the international launch due to the country's terrain and culture perfectly complimenting Land Rover and the brand's 'Above and Beyond' spirit.
To further the experience, guests and staff were issued with suitable clothing for the event, including a 66°NORTH Thorsmork Parka. 66°NORTH was chosen as the main clothing partner of the event for its high quality materials and endurance.