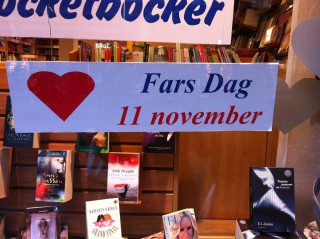 A recent survey has indicated as many as two-thirds of Swedes still recognise Father's Day, despite claims by an ethnologist that it was surprising the tradition's popularity remained.
Father's Day, or Fars Dag, falls on 9 November in the Scandinavian country, and is believed to have been a key date on the Swedish calendar since being brought from the US in 1931. It was initially celebrated in June, as is the case in the US and the UK, but after pressure from retailers it was switched to November.
The reason behind the change was that it fell too close to Mother's Day, which arrived in the country 12 years before Father's Day and was traditionally celebrated in May. The move also ensured an increase in trade in November, generally one of the quieter months.
An HUI Research survey in 2012 showed that two-thirds of people in Sweden marked the occasion, with the average expenditure of the 1,000 people who took part in the survey being 281 kronor. However, a third of those questioned said they gave no present to their fathers.
Nordic Museum ethnologist Jonas Egman expressed his surprise that the tradition was ongoing in Sweden, noting that the popularity of both Father's Day and Mother's Day peaked in the 50s and 60s. He said that such days really shouldn't be part of the country's "major festivals" any more, but they still are.
Talking about Mother's Day, Egman explained that when it first arrived in the country it was marketed by portraying the mother as the person who kept the family together, while the father was the provider. He acknowledged that the fact it remained popular to this day showed that "nuclear families" in Sweden remained strong.
Both parents' days have been criticised for being too commercial, and sales this year were not as high as seen in previous years. Meanwhile, around a quarter of the fathers surveyed claimed they didn't want any gift at all.