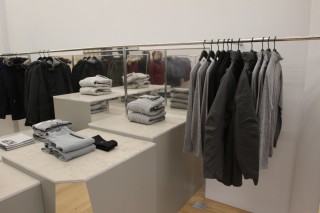 Icelandic clothing label 66°NORTH has recently opened its first international standalone store in Copenhagen, Denmark. The opening of this store marks a new chapter in the brand's legacy.
The store, located in Sværtegade 12, was designed by the prestigious Berlin-based architects, Gonzalez-Haase, and holds men's, women's and children's collections over 130 square metres.
The brand's new store is beautifully decked out in a cream, white and grey interior, with a minimal and chic aesthetic. The design of the store is inspired by the Icelandic landscape with the use of natural materials, and different levels to represent glaciers and rocks.
66°NORTH states that opening a store in Copenhagen is an exciting development for the brand. Combining performance outdoor clothing with streetwear inspired silhouettes, 66°NORTH is fast becoming a new alternative on the fashion market.
The brand prides itself in working closely with high quality fabric manufacturers to offer the most innovative and versatile materials available. All of the brand's products are meticulously tested before they are manufactured under close supervision.
To see 66°NORTH's key items for winter 2014/2015, visit https://www.66north.com/Key-Items/