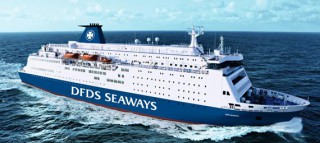 The final ferry link between Denmark and the UK sailed for the last time on Saturday after DFDS Seaways called time on its Esbjerg-Harwich route.
The company said that bringing the curtain down on the 140-year-old route signals the end of an era as there will now be no more passenger ferry services between the two countries.
DFDS explained that competition from budget airlines and the loss of tax-free sales has left the route struggling for some time, noting that passenger numbers have fallen from a high of around 300,000 to just 80,000 annually.
New sulphur emission regulations set to come into force at the beginning of the year would have cost DFDS around 2bn kroner annually, which chief executive Niel Smedegaard said would "considerably increase the costs" of the route and meant it was no longer sustainable. He described the route as being of "particular historical significance" and said it was a sad day to see it close.
The company tested several ways to try and keep the route going, including cutting crew size, new marketing strategies and combining passenger and freight services, but Smedegaard confirmed that they were not able to cut the costs enough to cover the extra charges.