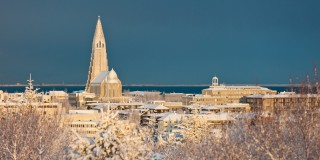 CNN has recently selected Iceland's capital Reykjavík as part of its list of winter vacation ideas.
The article, titled 10 best cities for a winter vacation, explains that, "Although Iceland's capital city is one of Europe's coldest spots, it has plenty of natural hot springs to warm up in."
During the winter months, there are numerous activities unique to the season, including ice skating on the city's iconic landmark Tjörnin, as its water freezes over making the lake the perfect outdoor ice rink.
Iceland-based Canadian writer Eliza Reid comments that an unmissable experience during winter is checking out the city's many outdoor geothermal swimming pools.
"There is no experience quite like soaking in these naturally warm waters with snowflakes tickling your nose. Each swimming pool has its own character and everyone has their favorite," explains Reid.
Furthermore, the annual Winter Lights Festival started on 6th February, with a collection of events taking place across Reykjavík until Saturday 15th. The closing event will be 'Pool Night', whereby guests are invited to take part in thrilling in-pool activities, music, and pool illuminations.
Car rental company in Iceland RED Car Rental offers a wide selection of brand new 2013 model cars suitable for travelling around Reykjavík, and further a field in Iceland's countryside.
Image: ©RagnarThSigurdsson