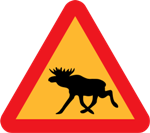 An elderly Norwegian man enjoying a peaceful getaway at his holiday home in the countryside got the fright of his life when he was accidentally shot by a moose hunter while seated on the toilet.
The incident occurred on the island Vesterøy, 74 miles south of Oslo.
The hunter was aiming for the moose but misdirected his shot, with the bullet hitting and piercing the wooden wall behind the beast and striking the unfortunate victim. Officials in Norway state that the pensioner, who is in his 70s, was transported to hospital by helicopter.
Policeman Anders Strømsæther said they had taken the hunter in for questioning and that the victim's injuries are not believed to be life-threatening, adding that he is expected to make a full recovery.
The policeman went on to say the pensioner's wife holds no grudge against the hunter, but said that she is extremely upset and being supported by her family and the police.
Strømsæther acknowledged that hunting brings with it a risk, and pointed out that a hunter is responsible for making sure nobody is in the background when firing a shot. He added that it is obvious what happened on Vesterøy should not have happened.