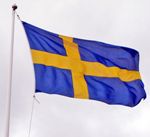 A bus driver strike has affected transport services in Stockholm and Umeå last week before spreading to other cities across Sweden as unions and employers struggled to reach an agreement.
The Swedish Bus and Coach Employers' Association (Bussarbetsgivarna) CEO Peter Jeppsson said that the union, Kommunal, is acting irresponsibly. He explained the mediators offered them a deal that they didn't feel was perfect, but still accepted it. However, he noted Kommunal has rejected it and is now not fulfilling its responsibility towards travelers.
The new strikes, which began last Monday, involved bus drivers in Halmstad, Hallstahammar, Strängnäs, Norrköping and Västerås as well as service and engineering employees in Östersund and Gävle.
The strike first started on 19 June and only affected the cities of Stockholm, Umeå and Sodertalje. However, the expanded strike  involved 1,400 staff across Sweden.
Trade unions want schedules reviewed so drivers no longer have to face 13-hour days with only a few breaks. They also want a salary increase of 1,760 kronor ($263) per month to be gradually introduced over the next three years as well as an employment guarantee when bus services are acquired by new operators.
Unions have given employers one week to come up with an acceptable deal, and have threatened further strikes, which might include airport coaches, if an agreement is not reached.