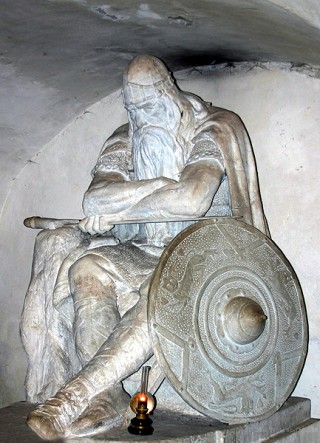 The controversial sale of the Holger Danske statue which has stood in a Helsingør hotel since 1907 may soon come to a halt. Helsingør Council's financial committee has reached out to the owner of both the statue and the hotel in hope of keeping the replica of the Danish folk hero in the Zealand community.
Danish politicians and locals alike have loudly expressed their opposition to selling the Holger Danske statue which was first commissioned for Hotel Marienlyst in 1907 to foreign art collectors.
After no one was willing to pay the initial one million kroner figure that the Hotel Marienlyst offered for the two tonne bronze statue, the Holger Danske replica was put up for sale on Lauritz.com, an online auction site.
However, all bids during the online auction had to be cancelled after the hosts of a popular P3 radio channel programme Monte Carlo placed a fake bid for the statue and encouraged its listeners to follow suit. Offers exceeded the 40 million kroner mark before the auction came to an end.
According to the Copenhagen Post, Helsingør mayor Johannes Hecht-Nielsen, who expressed his disappointment at losing the Holger Danske statue during an earlier interview, recently said he was happy the council is now working towards a mutually beneficial solution.
In a Helsingør Dagblad newspaper interview, Hecht-Nielsen said, "Naturally, it means that I will be contacting Hotel Marienlyst in order to discuss an eventual acquisition."