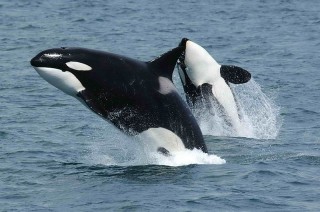 The Icelandic rescue team was unable to save four out of five killer whales that had washed ashore on a beach in Heiðarhöfn on Langanes peninsula yesterday. Only the smallest of the five sea mammals successfully regained the ocean, according to police chief Jón Stefánsson.
According to the Police, the conditions last night were far from ideal for a successful rescue,  with high winds and strong surf. Two of the killer whales died during the night, a calf and an adult.  Jón said that many people volunteered to save the animals. An excavator was brought to the beach to dig around the whales with hopes that it would facilitate their return to the sea.
The only surviving killer whale of the ordeal had already swum ashore three times yesterday before successfully swimming back into the ocean last night.