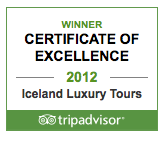 Iceland tour provider Iceland Luxury Tours has received TripAdvisor's Certificate of Excellence for 2012, after earning a traveller rating of 5 out of 5 stars.
Based on 44 customer reviews, Iceland Luxury Tours has received the highest rating possible on the world's largest travel website, TripAdvisor, for its services and luxury tours in Iceland.
One traveller from the UK stated within their review: "From the first email, we felt confident in who we were booking with. Sveinn, our tour guide, was excellent from start to finish. We spent three days touring, seeing the wonderful sights of Iceland. The 4×4 was in excellent condition – comfy and clean. Sveinn and his brother were very informative, friendly, relaxed, and we had lots of laughs along the way. ?Fantastic Trip – can't thank Sveinn enough, we have wonderful pictures and memories to cherish."
Iceland Luxury Tours specialises in private Super Jeep tours and trips in Iceland.  The company also offers exclusive services for planning consecutive private day tours or private multi-day tours.
Amongst the company's services include adventure tours, day tours, multiday tours, snowmobile tours, photography tours, company event tours, highland tours, glacier tours, volcano tours, hiking tours, and dog sledding tours. Iceland Luxury Tours can also combine its tours with activities like helicopter flights, ice climbing, horseback riding, whale watching, ice caving, kayaking, ATV trips (quad bikes), and heli-skiing.
To find out more about Iceland Luxury Tours, visit http://www.icelandluxurytours.com.