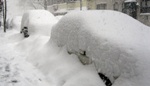 Yesterday, residents of Reykjavik woke up to heavy snowfalls in combination with strong gusts of wind, leaving high banks of snow on sidewalks and black ice on roads before snowplows could get to work.
As a result, hundreds were forced to stay indoors while many others abandoned their cars in the middle of traffic. The police advised residents of the capital area to avoid leaving their homes and to stay off the roads unless travel was necessary, as stranded cars made it difficult for rescue workers to get about.
To add some dramatic tension to the situation, the police informed drivers via their Facebook page that if they happened to be stranded in the traffic with hungry children sitting in the back, they could ring 112 (the emergency number) to get assistance.
This winter has been relatively mild by Icelandic standards, seeing one of the warmest months of February in decades. While most Icelanders were expecting spring to be just around the corner, with temperatures as high as 8°C and blossoming trees, the sudden temperature drop and strong winds came as a chilling reminder that Icelandic winters usually last well into April.
See pictures of the snowstorm.