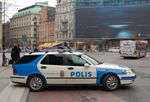 Police in Malmö turned away a murder suspect looking to confess because the station was closed, according to reports. According to an article by The Local on Tuesday 19 February, the 45-year-old male, who had been a wanted fugitive for nearly 15 months, wanted to turn himself in for the killing of a Brödraskapet Wolfpack gang leader in 2011.
However, when the man came forward to confess just after 18:00 on Monday (18 February) at a police station in central Malmö, the after-hours officers told him via the intercom at the door that the facility was closed.
The suspect replied, "Closed? I'm suspected of murder and a wanted man – you guys really want to get a hold of me," Sydsvenskan newspaper reports.
The man was, however, told that he must go to another station in order to turn himself in. He followed the instructions and was arrested at another location shortly thereafter.
Gunnar Falk, the man's lawyer, told reporters from the Kvällsposten tabloid, "It's a little strange that a person who has been a suspect for such a long time and even expressed a strong wish to come home doesn't get help but is required to come home on his own, despite the existence of an arrest warrant."
Similarly, Sven-Erik Alhem, a Stockholm-based criminal justice expert, agreed that the incident seemed rather unconventional.
He told the Expressen news agency, "It seems really strange and totally bizarre that he was told to go away when he's suspected of murder. He must have been very confused."