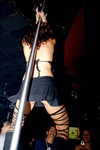 Iceland may become the first-ever Western nation to ban internet pornography. Interior ministry advisor Halla Gunnarsdóttir told the media, "There is a strong consensus building in Iceland. We have so many experts, from educationalists to the police and those who work with children behind this, that this has become much broader than party politics," the Daily Mail reports.
Although the proposals may seem surprising from a nation that champion free speech rights, the North Atlantic country has long had laws in place that prohibit printed pornography. However, the legislation has never been extended to include pornographic content on the web.
The effort has quickly drawn fire from internet-freedom advocates, but many officials Reykjavik continue to defend the move by saying it will protect the country's children.
Gunnarsdóttir said, "This move is not anti-sex. It is anti-violence because young children are seeing porn and acting it out. That is where we draw the line. This material is blurring the boundaries for young people about what is right and wrong."
Meanwhile, experts say that blocking internet pornography from reaching Iceland completely would be virtually impossible due to the sheer volume of content available around the world.
However, Gunnarsdóttir said that the government is confident it can handle the task: "At the moment, we are looking at the best technical ways to achieve this. But surely if we can send a man to the moon, we must be able to tackle porn on the Internet."