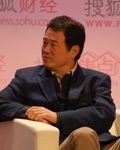 A Chinese billionaire, whose Iceland resort project has just been stalled by authorities in Reykjavik, has said that he is being treated differently due to his ethnicity. Huang Nubo, who has already leased a huge piece of land in the remote northeastern part of the North Atlantic nation, wants to build a luxury hotel and golf course. He was told last week, however, that he must re-apply for the licence to build on the land because his latest proposal was missing essential details.
Huang said in an interview with the Financial Times at the weekend that he believes there are other motives behind the delay: "I think this is racial discrimination because I am Chinese. Many people have invested in Iceland in the past but no one has been treated like I have."
Huang's plan remains a controversial topic in Iceland; many have raised security concerns due to the remoteness of the island and the abundance of natural resources in the area. Because of this, officials barred the billionaire from buying the 100sq-km of land outright in his first proposal. However, earlier this year Huang signed an extended lease agreement for the plot.