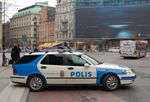 A Swedish man convicted of shooting civilians with a 'foreign' appearance has been jailed for life. Forty-year-old Peter Mangs was found guilty in July of killing two people and attempting to kill several others in the southern Swedish city of Malmo, a community with a large number of residents from immigrant backgrounds. Mangs killed a Swedish-born woman, shot dead in her car 2009, and an Iranian-born man, killed at close range in his own apartment in 2003.
On Friday, a judge in Malmo District Court told those in attendance that Mangs would spend the rest of his life behind bars. He said, "The crimes [that] Peter Mangs committed are characterized by extreme ruthlessness and a complete lack of empathy for other people," the Chicago Tribune reports.
The court statement added, "Based on the forensic psychiatric evidence presented in the case, Peter Mangs didn't suffer from any serious mental illness at the time of the deeds or during examinations. Thus, there is no reason to give him special treatment when it comes to his punishment," TheLocal.se reports.
Jesper Montan, Mangs' lawyer, told the media that the ruling was not unexpected: "We've known for a long time that Mangs would get a tough penalty," he said.