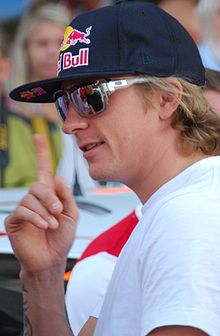 Finnish driver Kimi Räikkönen has emerged victorious from Sunday's Formula One Grand Prix in Abu Dhabi. The win marked the first victory of the 33-year-old's comeback season. His performance showcased his trademark unwavering driving style, despite a number of accidents on the track throughout the day.
The 2007 world champion also stayed true to his character in an interview after the race, noting that preparing for the next round was more important than celebrating. "Like I said, I am happy but there is nothing to jump around about. We still have a few races to go and I hope this can turn around the tables and give us many more good races and wins, if not this year, then next year again," Räikkönen  told YLE.
He added, "I don't feel a lot. The last time everyone gave me s**t because I didn't smile enough. But I'm very happy for the team and myself, but mainly for the team," The Belfast Telegraph reported.
Räikkönen's win was anything but certain in the final moments, with Fernando Alonso of Team Ferrari coming in just 0.8 seconds behind him. However, Kimi's confidence seemed to be fully in tact as he took the lead, replying to his team's instruction, "Just leave me alone, I know what to do!"