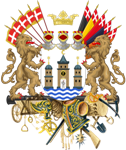 City officials in the Danish capital have apologised after a Zionist organisation was asked not to display its flag at a local multicultural event earlier in the year.
Reports said that the city approached an area figurehead of Judaism – Linda Hertzberg from the Mosiaske Troessamfund group – urging her to convince the Pro-Israel Danske Zionistforbund (DZF) organisation not to show its flag at the upcoming international festival. Officials were reportedly concerned that the banner could cause a backlash, as the event was to take place in the Nørrebro district, home to a substantial number of Muslims.
After Hertzberg told the DZF of the city's concerns, the group opted to display the flag anyway, and the event went by without incident.
Anna Mee Allerslev, Copenhagen's deputy mayor, said on Friday (3 November) "I apologise for the way things were handled. It's obviously a problem that needs to be taken seriously. I've also had a serious discussion over the matter with the man who was in charge at the time of the incident," the Copenhagen Post reports.
She noted that no problems occurred at the festival, but added, "I'm still very disappointed that the incident occurred under my watch."