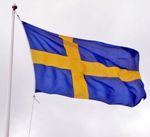 A new report has revealed that Somali immigrants generally have more success with employment in the United States and Canada than in Sweden.
The news comes via the Swedish government's Commission on the Future, whose report 'Somalis in the labour market – does Sweden have something to learn?', revealed that only one in five Somalis living in Sweden has a job.
Meanwhile, those immigrating into the US and Canada tend to find employment much more easily, according to the report's author, who attributes the difference to the way the immigrants are helped to find jobs.
Benny Carlsson, who wrote the paper, notes that in North America, Somalis are given assistance by non-government organisations, whereas the government provides this service in Sweden. He said that this poses a problem because the immigrants have had bad experiences with governments.
He writes: "In Sweden, government agencies try to integrate individuals. This is problematic, not least when it comes to Somalis, who are often unfamiliar with or have had negative experience with government agencies."
He adds, "Would Swedish government bodies dare hand over some of the responsibility and resources to ethnic-based organisations focused on helping new arrivals or those suffering from social exclusion to navigate Swedish society?," The Local reports.
Somalis are currently the single largest group immigrating to Sweden; some 40,000 are now living in the Nordic country, and recent figures from the Migration Board suggest that another 20,000 will arrive in 2013.